The Formal Bio
(Paul) Whitney Lackenbauer is a Professor in the Department of History and co-director of the Centre for Foreign Policy and Federalism at St. Jerome's University in the University of Waterloo, Ontario. He is Honorary Lieutenant-Colonel of 1st Canadian Ranger Patrol Group based in Yellowknife, Northwest Territories. He is also a Fellow with the Bill Graham Centre for Contemporary History; the Arctic Institute of North America; the Centre for Military, Security and Strategic Studies; and an adjunct professor with the Frost Centre for Canadian Studies & Indigenous Studies at Trent University. Whitney specializes in Arctic security, sovereignty and governance issues, modern Canadian military and diplomatic history, and Aboriginal-state relations.
Whitney's recent books include China's Arctic Aspirations and What They Mean for Canada (co-authored, forthcoming 2017), Whole of Government through an Arctic Lens (co-edited, forthcoming 2017), Vigilans: The 1st Canadian Ranger Patrol Group (2015), Blockades or Breakthroughs? Aboriginal Peoples Confront the Canadian State (co-edited 2014), A Historical and Legal Study of Sovereignty in the Canadian North, 1870-1942 (edited 2014), The Canadian Rangers: A Living History, 1942-2012 (2013, shortlisted for the Dafoe prize), Canada and the Changing Arctic: Sovereignty, Security and Stewardship (co-authored 2011, French translation 2015), A Commemorative History of Aboriginal People in the Canadian Military  (co-authored 2010), and Arctic Front: Defending Canada in the Far North (co-authored 2008, winner of the 2009 Donner Prize).  He is also co-editor of the Documents on Canadian Arctic Sovereignty and Security (DCASS) series and has contributed four volumes to it.
The Personal Bio
I was born in Kitchener in October 1974, and grew up in this proud southwestern Ontario community. Our family travelled a lot through Ontario and Quebec while we were kids, which generated a very intimate attachment to central Canada. Despite travelling across the country and around the world for research and speaking engagements, Ontario is unquestionably my home.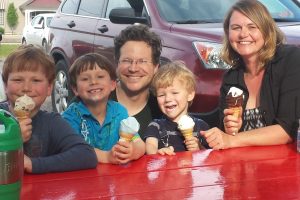 I went to high school at St. Jerome's and Resurrection Catholic Secondary School in Kitchener before heading off to do my undergraduate degree at the University of St. Jerome's College (now St. Jerome's University) in the University of Waterloo. There I was brilliantly mentored by John English, Geoff Hayes, Ken McLaughlin, and Gerry Stortz (amongst others) who confirmed my love for Canadian history. Doing a co-op degree with work placements in Ottawa also convinced me that I would also seek scholarly topics with a practical or applied bent. My graduate studies took me to the University of Calgary to work with David Bercuson and then to the University of Saskatchewan for a short postdoc with Jim Miller.
By the time I was finishing high school, I knew that I wanted to be an historian. I particularly thank my grandparents for sparking that interest: Eddie Lackenbauer got me hooked on stamp collecting when I was five years old, and my Pepère (Leo Lalonde) was a marvellous story-teller who captivated me with his reminiscences of growing up in rural northern Ontario. My grandmothers, Georgette Lalonde and Ethel Lackenbauer, were also incredible raconteurs who taught me a lot about the way things were, and what this tells us about the ways things are. The rest is history, so to speak!
The turning point in my life was meeting Jennifer. She has a B.A. in Political Science from Carleton University and an M.Sc. in Rural Planning and Development from the University of Guelph. Her sharp mind and brilliant editorial skills help to keep me in line professionally, and she has shaped my research and teaching interests in many ways.And last, but never least, are Harrison, Rendall and Pierce – our handsome, brilliant, energetic boys, the centres of our universe.
We are blessed to live in a beautiful century farmhouse in Otterville, Oxford County, Ontario, just down the road from where famous Canadian historian Harold Innis grew up.